Falling through April is Music Gorilla's latest Featured Pro Artist Member
FALLING THROUGH APRIL is one of those bands that boldly blurs the genre lines of rock and alternative. This 5 piece rock act from North Carolina emerged in 2011, as former members of Manic, Strange County, Sleep In Sacrifice, and Interstate North decided to merge into one creative force. The band has blossomed into a significant part of Charlotte's independent rock scene building support and gaining recognition along the way.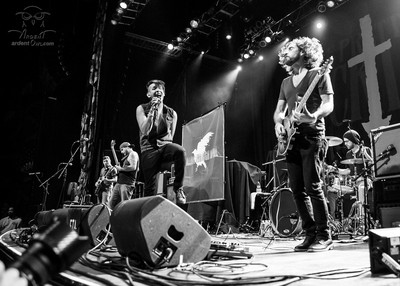 Music Gorilla: Like most artists you have noteworthy and cringeworthy material posted online. Here's a chance to flaunt your best. Give them your top 2 links; no more, no less.
Falling Through April: http://www.examiner.com/review/cd-review-falling-through-april-risks-and-rewards  http://volume11magazine.com/news/the-pretty-reckless/
MG: What song are you certain should be played on the radio the day after the music industry reads your answer (pick one :))?
FTA: "Broken Feet"
MG: Hypothetical: The industry wants your music, but they don't want you or vice versa: How flexible are you in this imperfect, yet all too real-world scenario? Are you still listening or is it time for them to hang up?
FTA: Still listening. There are plenty of highly successful artists that start out as songwriters for other artists, co-writers, or simply have publishing deals. Leave no stone unturned as they say, opportunity is what you make of it.
MG: How long has your band been together? How many pieces? Are we talking "lifers" or "moonlighters"? If asked, do all critical components of your band have the ability to tour 300+ days per year, as of this question? Yes, that includes you solo songwriter people!
FTA: Falling Through April has been together since July 2011. We have dedicated our lives to our music; touring and performing even before this band formed. As far as touring 300+ days a year, YES PLEASE. If we could tour 400+ days per year we would! 2014 was our busiest year to date, playing over 100+ shows. We always ask ourselves "why does it have to be over" when the tours come to an end.
MG: For those of you not touring, what's the real issue that stops you? Is it time? Finances? Family? A job?
FTA: N/A
MG: What's your greatest strength and your greatest weakness? Whether it's time management, beer management, or tightening up your songwriting, or anything else that affects you, elaborate.
FTA: Our greatest strength is our bond on a personal level. Even being on the road for 2 months straight we absolutely love hanging out with each other. We come back from tour and say "alright guys..it's been fun but I'm looking forward to seeing some other faces" then 2 hours later one of us will text "you guys want to hang out?". It really shows in our chemistry on and off the stage!
Our greatest weakness is representation. We are currently building our team but we lack management and it causes a ton of stress and extra work for some of the band members to pick up. There aren't enough hours in a day to really focus on what is the 'best' opportunity or whether or not we should do something vs another. It's pretty much all DIY at this point. We feel like, as we are sure most other pursuing artists do, that with appropriate representation our music would be in front of the 'right' people to help advance our career.
MG: A&R reps and established artists have attended the live showcases of Music Gorilla. We recall one where there were only a few people in attendance and we're not sure the band knew exactly who was watching, because one of the 3 was a R&R Hall of Fame inductee. It was an interesting moment for us on this side of the fence, to see how it played out. Do you play the same for 3 people as you do for 300? Sure, it's the energy from the audience that makes the gig more enjoyable, but it's the energy on stage that creates the energy in the audience.
FTA: ABSOLUTELY. We give it everything we have every single time we perform. Our motto is whether it's 10 people or 10,000 people those people came to be entertained and it's our job to make that happen. We also firmly believe word of mouth is a powerful tool…sure, you never know if A&R or industry people are in attendance but what you do know is that unless the people in the audience live under a rock somewhere they have at least 1 friend…and if that friend tells the other friend who tells their friends and their friends and so on, the next time 3 people should be 30 people in the audience and so on. We want people to leave saying "Wow. That band, Falling Through April, was absolutely amazing. I can't wait until their next show.". If someone leaves our show with no intentions of seeing us perform again we didn't do our job, plain and simple.
MG: Look to the past, who's your inspiration? What makes this question not boring? You can only name one. Warning: saying you can't pick just one is entirely too hipster and unacceptable 🙂
FTA: Pink Floyd. There are others we feel would be even more inspirational to us but if we had to pick one Pink Floyd has to take it. Why? Because they were a band that found inspiration everywhere. They got together and made a bunch of noise until it made sense. Real musicians find inspiration in everything around them. If there was a french fry wrapper one of them would pick it up and say "hey, I wonder if we could use this on one of our tracks" – that is art with zero limits.
MG: Give us your next year: Where are you? What are you doing?
FTA: In 2014 we toured internationally with The Pretty Reckless / Adelitas Way, played Warped Tour, recorded a new record, played the Florida Music Festival, played the Celebrate Fairfax festival, supported The All-American Rejects, Ed Kowalczyk of Live, Less Than Jake, Adelitas Way, The Pretty Reckless, Yellowcard, met A&R from various labels, released an official music video for our single "Broken Feet"
In 2015 we played 5 shows during SXSW, played warped tour for the 2nd year in a row, released "Risks & Rewards" (January 20th), played the New Belgium brewing company tour de fat battle of the bands, played the SC strawberry festival, 2 shows during the special Olympics, played Boxerstock 2015 supported He is Legend, nominated for music video of the year (CM music awards), rock band / album (Risks & Rewards) / song ("Broken Feet") of the year (IMEA awards)
In 2016 we are already booked to perform on the "Axes and Anchors" international cruise with Breaking Benjamin, Flyleaf, Adelitas Way, Motionless in White, and more!
Our goal is to find the right label that believes in us and our music as much as, if not more than, we do. There is still money to be made in this industry and Rock is not "dead". We're prepared to lead by example. Did we mention we were touring a bunch?!
MG: Here's the real battle in this industry, everyone is so damn unique and many are so damn good and they're making beautiful music, yet still you need to convince the masses or the few people who have the ability to get you to the masses, that you stand out even more. What is it that sets you apart? Why should they invest in you? What is it that you have that even the best of the others don't? What is it that will make them demand an encore?
FTA: We have been able to build following on our own without the budget, marketing, credibility, and support of a label. We are an already established and professionally touring band. We have a ton of positive press, touring experience (organized touring, not weekend warrior touring), we average $0.86/per head as 1st of 3 bands in markets we've never been to before and $8.98/head headlining in our home market. We are a less risky investment because we already established and have the experience most bands require development on. We are not a fly by night band, we're in this for the long haul so investing in Falling Through April is a profitable and long term investment. Now it's just a matter of who is ready to take that step and become a business partner.